Former Most Beautiful Girl in Nigeria 2005, Omowunmi Akinnifesi, whose car was vandalised yesterday (read here) shared some videos on Instagram showing the smashed vehicle, she also gave details on how the vandals broke into her parked car to steal her valuable items.  She wrote:
So I went for a wedding yesterday. When I came out my back window was smashed and all the things in my car where stolen. My bags, wallet with ATM cards, National ID, drivers license and much more. I could not contain myself.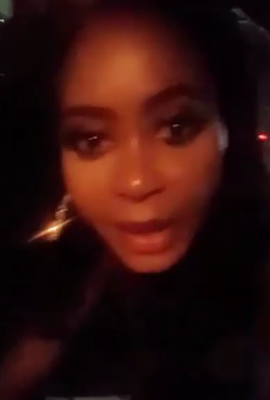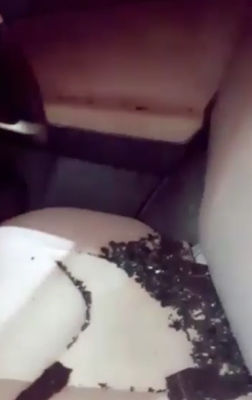 So please if you are going for a wedding or party around the Landmark event center strip, there are about 4 event centers there i.e Landmark, Queens Park, D-Venue and The Dorchester. If you are not parking inside the compound, make sure you have NOTHING in your car. You can see through my boot so if u drive a jeep your boot might be a bad option. I've heard so much about this and I can't belive it has now happened to me. BTW I kept the bags under the seat but they smashed the car and raised the chairs. I'm warning you cos I love you.
Smashed car windows. So I went for a wedding yesterday. When I came out my back window was smashed and all the things in my car where stolen. My bags, wallet with ATM cards, National ID, drivers license and much more. I could not contain myself. So please if you are going for a wedding or party around the Landmark events center strip, there are about 4 event centers there i.e Landmark, Queens Park, D-Venue and The Dorchester. If you are not parking inside the compound make sure you have NOTHING in your car. I've heard so much about this and I can't belive it has now happened to me. BTW I kept the bags under the chair but they smashed the car and raised the chairs. That area has too many area botsI'm warning you cos I love you. #lagosliving #theives #robbers #carsinlagos #Dangerinlagos #WhereismyGovernment
Comments
comments